Pedal and Paddle Mljet: Natural Tranquility
Trip Length

7 days/6 nights, Saturday to Friday

Arrival/Departure Point

Dubrovnik

Accommodations

3 nights private guest house rooms and 3 nights full service hotel

2017 Tour Price*

8800 Kn / €1160 / US$1215 / £985 *prices are in Croatian Kuna: Euro, US$, & GBP prices are subject to exchange rate fluctuations

Includes

6 nights accommodation, all meals, equipment, instruction, guiding, airport & ferry transfers, park fees

Single Supplement

additional 1720 Kn / €225 / US$235 / £190

2017 Departure Dates

Apr: 29 / May: 13 / Sept: 30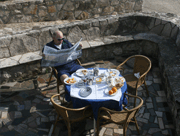 Our most flexible and luxurious tour package makes its base on Mljet, the legendary island where Homer's Odysseus spent seven years on his epic journey home from the Trojan War. Today, visitors are drawn to this densely forested island's extraordinary beauty and tranquility.
Largely uninhabited, almost one-third of the island has been designated a national park, protecting Mljet from the influx of tourism that characterizes much of Croatia. A park hallmark is its two inland saltwater lakes, one of which is home to a 12th century Benedictine Monastery that is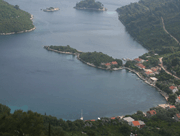 the island's symbol. The park has a network of hiking and biking trails covering the entire northwestern tip of the island.
We spend three nights in a guest house in the small village of Kozarica and three nights in Hotel Odisij, the island's only hotel. This full-service hotel offers a range of dining options, as well as satellite television, Internet access, beach and lounge areas, windsurfing, sailing, diving, and cultural excursions.
Daily tour activities include paddling in protected water to nearby isla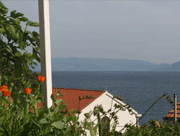 nds, leisurely hikes around the inland lakes, and challenging hill climbs on bicycles.* Tour highlights include your final day of kayaking — you will paddle from the open sea, through the narrow channel opening in the cliff walls, and into the island's inland lakes — and your hike to the legendary Odysseus cave to swim and snorkel.
Whatever unique path or paddle your group chooses to take each day, it will be an enriching and revitalizing experience. If it's peace and tranquility you seek, plus a little pampering, come to Mljet.
*Daily kayaking, biking, and hiking routes and distances are determined by the group and the weather.
Note: We offer both novice and advanced tour levels. See online itineraries for details.
Pedal & Paddle Mljet Tour Map