Vis Island: Custom Tour for Experienced Paddlers
Trip Length

7 days/6 nights

Arrival/Departure Point

Split

Accommodations

Private guest house rooms with private attached bathrooms

2015 Tour Price*

9065 Kn/ €1180/ US$1395/ £920 *prices are in Croatian Kuna: Euro, US$, & GBP prices are subject to exchange rate fluctuations

Includes

Accommodations and meals (lunches and dinners) except breakfasts

Single Supplement

additional 1150 Kn/ €150/ US$177/ £115

2015 Departure Dates

Custom tour dates for groups and kayak clubs, min. group size 6, max. group size 8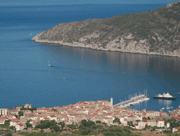 Create a custom kayak adventure for your group around Vis Island, Croatia's most distant inhabited island. Still relatively unknown as a tourist destination, tiny Vis Island has a rich history, having served as the Adriatic outpost to many great empires and nations: Greece, Rome, Venice, Austria, France, England, and Italy.
Today, Vis Island's charm lies in its relative isolation, which has insulated it from commercial development and mass tourism. Lauded for its wild rugged beauty, and its deep connections to Mediterranean maritime heritage, the island is a true feast for the senses. Its restaurants are wonderful, and Vis wines, especially the white Vugava and red Plavac, are organically produced and superb. The island's crystalline waters and unspoiled shores rank among the cleanest on the planet.
The island's network of caves and secluded bays make it a sea kayaker's dream. A stone guest house in Komiža, one of two small settlements on the island, is your home on Vis. Komiža is surrounded by steep mountains with views of Biševo islet, our destination on day three and home of Modra špilja (blue grotto).

Authenticity is the hallmark of this tour. Closed to tourists until 1998 because of its military role, Vis Island is a place truly stopped in time; an unspoiled island waiting to be discovered.
Vis Island Tour Map