Trip Details
Trip Length: 2 days/1 night
Arrival/Departure Point: Dubrovnik
Accommodations:Log cabin bunk bed bungalows (4-6 people) with detached modern bathroom & private deck/ private 2-3 person cabin rooms with private attached bathroom
Tour Inclusions: 1 night accommodation, transport (3.5 hour drive each way), equipment, guiding, meals: 1 breakfasts, 2 lunches, 1 dinner
Price: 2220 Kn / €290 / US$355 / £250
Single Supplement: additional 225 Kn / €30 / US$35 / £25
Group Size: 4 person minimum/ 8 person maximum
2021 Departure Dates: By private reservation in May 1 to October 1
*prices are in Croatian Kuna: Euro, US$, & GBP prices are subject to exchange rate fluctuations
In tiny Montenegro lies the Tara River Canyon, a canyon of steep limestone
cliffs with cascading waterfalls surrounded by densely forested mountains.
The Tara Canyon is Europe's longest and deepest gorge; second in scope to
only the US's Grand Canyon. Our two and three-day Montenegro Getaway Tours
transport you from Dubrovnik to this region of exquisite natural beauty….
Day one: morning pickup in Dubrovnik for the 3 hour scenic drive to the Tara River Canyon, riverside lunch, an afternoon hike from camp, and a starlit campfire dinner and bonfire.
Day two: breakfast at camp; short drive to the rafting put in; white water raft an 18 km stretch of the Tara Canyon before it crosses into Bosnia, from Brštanovica to Šepan Polje, with 22 distinct rapids. Quench your thirst with river water; stop to jump from rocks into the clear alpine-green water, and swim in waterfalls. Late lunch at the riverside camp; return drive to Dubrovnik, arriving 7 to 8 pm.
According to Lonely Planet's Eastern Europe guidebook's list of country
fast facts, Croatia is "Famous for: neckties, Slaven Bilic, & Tito".
Montenegro is "Famous for: being really beautiful". This tiny country,
roughly 2/3rds of Wales or 4 times the size of Rhode Island, has stunning
Adriatic coastline, although shorter and lacking Croatia's 1000 plus
islands, Swiss-like mountains, green alpine meadows, the largest lake in
southern Europe, and river cut canyons that rival Colorado's. With a
country wide population of roughly 700,000 people, most of whom live on or
near the coast, Montenegro has plenty of untouched nature.

The three-hour from Dubrovnik to the Tara River Canyon is an adventure in
itself, transitioning from Adriatic coastline to switch backed roads and
rough stone tunnels to Montenegro's mountainous north. Stay in rustic
wooden bungalows or private log cabin rooms, lulled to sleep by the
rhythmic sound of the fast-flowing Tara River. End your day sipping wine
or coffee around a roaring bonfire. Meals are home cooked and delicious,
prepared and served at the riverside camp.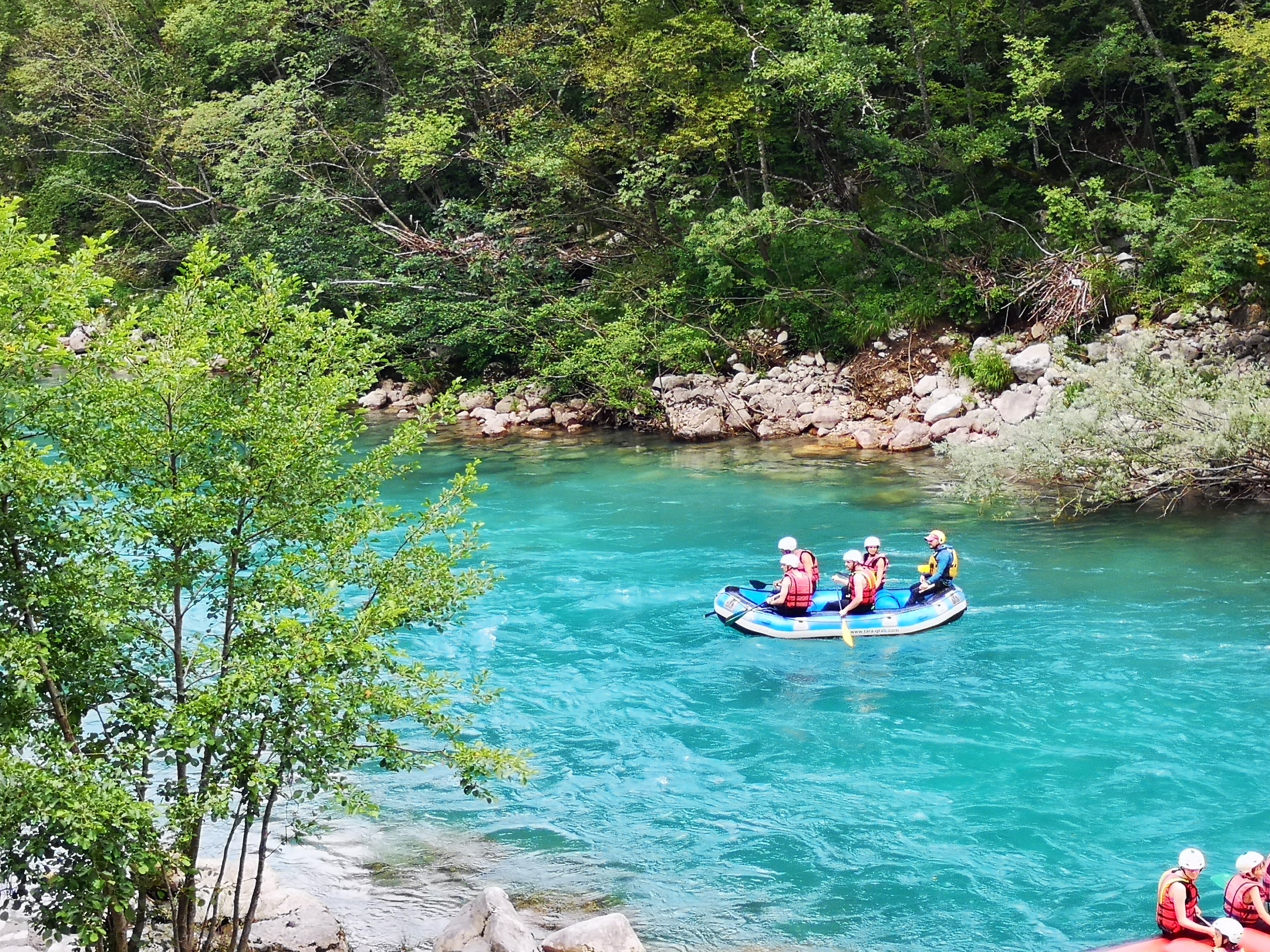 Activities include white water rafting, hiking, swimming, and lounging in
riverside hammocks. Canyoning is available in July and August when water
levels are at their lowest point. Additional activities may be scheduled
for additional fees: hydrospeeding, canoeing, horse-back riding, and zip
lining across Europe's deepest gorge.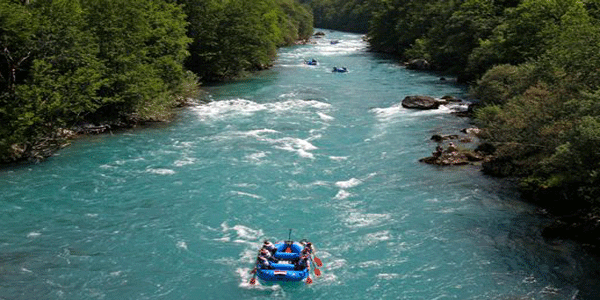 What to Bring
:
YOUR PASSPORT, water and snacks for the drive, a change of clothes, a warm layer (sweater or fleece) for the cooler mountain air, and Euros should you wish to purchase additional drinks (beer, wine, local grappa, coke, juice). You may drink water from the river. Croatia's currency is the Kuna; Montenegro accepts only the Euro. A camera is optional; you will see amazing scenery and be in the 2nd largest river gorge in the world, so you'll probably want to snap a photo or two.
Rafting Gear provided:
Wetsuit & boots, lifejacket, helmet, dry bags for dry storage of personal items on the river. You may wear a swimsuit with clothes over. Your wet suit goes over your swimsuit. If you don't want to travel in swimwear there are changing facilities at the camp. You are served a hearty lunch after rafting and the return drive to Dubrovnik.