Our weeklong sea kayaking tours, Island Hopping and Paddle Dalmatia, and our 4 day consensed version of Island Hopping, Short Break, give you a true taste of Adriatic island life. As guests, you'll enjoy crystal clear seas, plenty of sunshine, and a rich cultural heritage. You'll paddle by medieval walled cities and uninhabited islands. You'll cycle past Renaissance villas set in Tuscan-like landscapes and hike goat trails scented with wild lavender and rosemary. Active vacationers find the laid-back atmosphere and warm climate truly satisfying.
Our Montenegro: Mountains and Sea Tour gives you a flavor of two distinct regions of Montenegro, kayaking in the mountain fringed coastal Bay of Kotor and rafting and hiking in Montenegro's inland northern mountainous. Multisport Pedal and Paddle Mljet combines sea kayaking with hiking and cycling in Mjlet National Park. The new selecton of multiday tours offers a greater range of meal plans, activities, island and mountain settings, and accommodations (from full service hotels to camping under the stars).
Island Hopping: The Elafiti Archipelago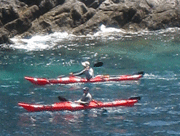 Our most popular tour begins in Dubrovnik, the "Pearl of the Adriatic". After visiting Stari Grad (Old City), a unique but chaotic and busy destination, we board a 1960s era Jadrolinija ferry to the Elafiti Island archipelago. The Elafiti Islands are a group of 13 islands north of Dubrovnik, a quiet little oasis of untouched nature...
Click Here for More Information
Mljet Island and Zaton Bay: Paddler's Paradise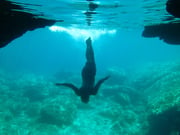 Already kayaked the Elafiti Islands and yearn for more Adriatic sea and sunshine? Our new 2019 tour splits time between Mljet Island, relatively unknown to kayakers, and Zaton Bay. Of Croatia's many islands, Mljet was designated a national park to protect its pristine nature. Circumnavigate Mljet's national park by kayak. Transition to Zaton to kayak and SUP...
Click Here for More Information
Paddle Dalmatia: Elafiti and Beyond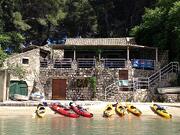 Paddle Dalmatia is an expedition style tour, a way to get to know the whole Dubrovnik region by kayak. We begin by paddling north from Zaton Bay, a beautiful narrow bay two kilometers long just outside of Dubrovnik, to Ston, the border of the old Dubrovnik Republic. Ston was built as a fortress town to defend Dubrovnik from northern invaders...
Click Here for More Information
Best of Balkans: Croatia and Montenegro
New in 2014, our two-country Best of Balkans Tour brings together the best sea kayaking in the Adriatic and the best of the region's mountains and rivers packed into one week. Kayak Croatia's open sea and unpretentious Elafiti islands, visit three UNESCO designated world heritage sites, and raft Europe's longest and deepest river gorge in Montenegro's pristine mountainous north...
Click Here for More Information
Pedal and Paddle Mljet: Natural Tranquility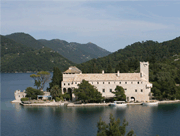 Our most flexible and luxurious tour package makes its base on Mljet, the legendary island where Homer's Odysseus spent seven years on his epic journey home from the Trojan War. Today, visitors are drawn to this densely forested island's extraordinary beauty and tranquility...
Click Here for More Information
Vis Island: Outer Limits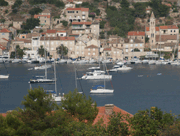 Join us on this kayak adventure around Vis Island, Croatia's most distant inhabited island. Still relatively unknown as a tourist destination, tiny Vis Island has a rich history, having served as the Adriatic outpost to many great empires and nations: Greece, Rome, Venice, Austria, France, England, and Italy...
Click Here for More Information
Montenegro: Mountains and Sea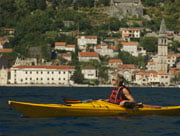 This tour features two distinct regions. Begin with sea level kayaking in the Bay of Kotor. Massive mountain slopes rise abruptly from the sea. The coastline is dotted with historic villages, including two UNESCO World Heritage sites, the medieval walled city of Kotor and picturesque Perast. Your home base is a restored seaside villa in Lepetane at the bay's mid-point...
Click Here for More Information
Short Break: The Elafiti Archipelago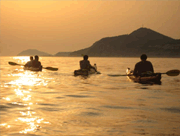 Too busy to devote an entire week to kayak touring in Europe? Or do you simply crave a long weekend getaway filled with sunshine, outdoor activities, and great food? Take a Short Break! Like our Island Hopping Tour, AKT's Short Break Tour offers the beauty of the Elafiti Archipelago region, geared for travelers who are on a tighter timeline. Short Break Tours are based on Lopud Island near Dubrovnik. Short Break Tours and are a condensed version of Island Hopping...
Click Here for More Information