Adventure Travel in Croatia and Montenegro: Frequently Asked Questions
Experience: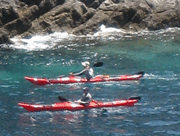 No previous kayaking experience is necessary. Tours begin with introductory lessons on equipment, safety, kayak entry and fit on the beach. Basic paddling technique and capsize & recovery are covered in shallow, protected water. Beginners can learn adequate skills quickly to thoroughly enjoy sea kayaking from day 1; small group size allows guides to work with clients individually; and the Adriatic Sea is warm and usually calm during the 6 month season. Advanced skill classes, for example rolling, are optional and scheduled according to client wishes. Additional learning such as local weather, sea conditions, navigation, and more advanced paddling skills develop naturally as the tour progresses.
Additional Nights in Dubrovnik: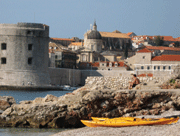 AKT will recommend and reserve guesthouse rooms in Dubrovnik before or after your tour. We have several guesthouse owners with whom we work. Rooms are licensed and approved for tourists. Rooms have private attached bathrooms and most have A/C and refrigerators. Guesthouses are selected for their character, cleanliness, owners, and convenient locations: just outside the city walls and within walking distance to the AKT office, markets, restaurants, ferries, buses, and Stari Grad. AKT charges a €10/person booking fee; you pay guesthouse owners directly for your reserved room. Expect to pay roughly 350 Kn./48 EUR (low season) to 450 Kn./61 EUR (high season) per double room/night. Hotel rooms in Dubrovnik are very expensive: 5 star hotels charge 500 EUR/night in high season; 3 star hotel rates are roughly 250 EUR/room/night.
Custom Tours:
A group of 6 or larger may request a custom tour. Tours may be customized according to specific needs and criteria-activities, date availability, fitness level, location, experience level, etc.
Group & Family Discounts: Day Tours: families of 6 or more receive a 10% discount off their total tour cost. Groups of 6 or more receive a 5% discount/person. Discounts do not apply to multi-day tours.
Accommodations: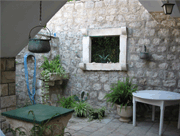 Private guesthouse rooms and apartments have attached private bathrooms, AC, in-room refrigerators and laundry facilities. Apartments have full kitchens. Our Lopud Island guesthouse has a private summer kitchen, courtyard, and outdoor dining and lounging areas for AKT guests
Single Supplements: Single supplements are the equivalent of 25 EUR (183 HRK) per night on all tours except P & P Mljet
Deposit and Payment:
We accept Visa, MasterCard, cash, US checks, and bank wire transfers. Deposits can be made by phoning or faxing our Dubrovnik office with your credit card details: card number, expiration date, and 3 digit CVC code. Bank wire transfers are subject to a €20 bank processing fee; US checks are acceptable from Nov. to April
Parking:
Parking in Dubrovnik during tourist season is nearly impossible. Stari Grad can't easily accommodate the influx of additional motorized vehicles. AKT clients arriving by car for multi- day tours may park and leave a car at the AKT kayak base in Zaton Bay (10 km north of Dubrovnik) during their tour. An AKT employee will help with logistics and shuttle clients to drop off and pick up their car
Language:
All guides are fluent in Croatian and English. French and German speaking guides are available upon request. English is the common spoken language among clients