Sea Kayak Adventures, About Adriatic Kayak Tours
Our First Adventures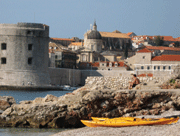 Adriatic Kayak Tours was founded in the spring of 2005 by Tamsen Resor, an American who first visited Croatia in 2002. After paddling the Dalmatian coast and islands on her own, Tamsen wanted to share her memorable experience with others. Exploring new caves and snorkeling spots, feasting on grilled seafood in family-owned restaurants, and enjoying the locals' hospitality are just a few of the region's many delights. Unlike other tour companies, AKT caters to small groups and focuses on natural wonders in Croatia and Montenegro. AKT offers half day and full day sea kayak tours, weeklong sea kayak tours, and multi-sport tours in southern Dalmatia.
Our Commitment to the Environment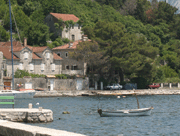 Adriatic Kayak Tours (AKT) is committed to preserving and enhancing southern Dalmatia's natural environment while economically supporting Croatia's tourism industry; the primary driver of the local economy. AKT group sizes are small. Clients travel by sea kayak, bicycle, or on foot, all of which are intentional efforts to minimize any potential negative impacts to the natural environment and local population. The AKT company policy includes the recycling paper and glass products. AKT uses locally owned accredited guesthouses for accommodations, restaurants for meals, and ferries for transport. AKT guides are Croatian, knowledgeable about local customs and the marine ecosystem.
Legal information:
Adriatic Kayak Tours LLC, travel agency (Jadranske kajak ture d.o.o., putnička agencija)
Zrinsko-Frankopanska 6, 20000 Dubrovnik, Hrvatska. CEO and board member (direktor i član uprave): Tamsen C. Resor. Registered at the Commercial court in Dubrovnik (upisano u sudski registar Trgovačkog suda u Dubrovniku) under serial number (pod brojem) 090012142.
VAT (OIB/PDV) Nr.: 77831836056
E-mail: info@adriatickayaktours.com (the address to which a consumer can file a written complaint; adresa na koju potrošač upućuje pisani prigovor)