Adriatic Kayak Tours believes in the holistic approach to travel.
What better way to explore the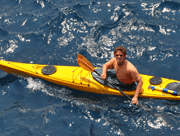 unspoiled wonders of a coastal region than to paddle its coastline? Enjoy warm Mediterranean sunshine, crystal blue Adriatic waters, delicious regional cuisine, warm hospitality, quaint, but modern accommodations and the emotional and physical satisfaction of leaving the hustle and bustle of the mundane behind. Let AKT's experts show you the true pleasures of an active vacation.
One of your own choosing. On your own terms. At your own pace.
Travel for a day or for a week. It's your vacation, so you choose the itinerary that suits you best. But know, you'll always benefit from our vast knowledge of the area; its secret pathways, hidden treasures and rare finds. In this scenic landscape, you will actively participate in discovering the vast beauty of each location and its people. We offer a variety of trips featuring different islands, paddling distances and specialized activities.
Chart your own course — what you'll find are pleasant surprises!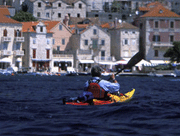 The experience is yours. Our tours allow you to uncover the special attributes of each island — with a little guidance from our local AKT experts of course.
Whether your interest is in learning first-hand about the islands' natural ecosystems, taking a morning stroll to a local farmer's market, visiting Dalmatia's myriad of historical landmarks, or simply enjoying kava (coffee) at a local café-bar, you are sure to end your day feeling enriched and invigorated.
Personalized tours for all types of persons.
For advanced kayakers or novices, we have trips tailored to your specific needs and goals. We provide all necessary equipment and introductory lessons in shallow, protected bays. We supply the latest equipment, accommodations, and itineraries to ensure the safety and comfort of all participants.
Provisions for experts.
We are pleased to outfit advanced kayakers and traveling groups who wish to explore the region on their own. We provide equipment rentals and other specialized services. Please contact us directly for rates and further details.