Best of the Balkans: Croatia & Montenegro
Trip Length

8 days/7 nights, Monday-Monday or Saturday-Saturday

Arrival/Departure Point

Dubrovnik

Accommodations

Lopud Island & Dubrovnik: guesthouse rooms with attached bathroom and A/C; Montenegro: Private double or tripple log cabin rooms with attached bathroom and outdide deck or log cabin bunkhouse bungalows with detached shared bathroom facilities.

2017 Tour Price*

8080Kn / €1065 / US$1110 / £905 *prices are in Croatian Kuna: Euro, US$, & GBP prices are subject to exchange rate fluctuations

Includes

7 nights accommodation, 5 breakfasts*, 6 lunches, & 7 dinners, kayak and rafting gear, guiding, car & ferry transfers and transport

*does mot include breakfast day 8 in Dubrovnik

Single Supplement

additional 1750Kn / €230 / US$240 / £195

2017 Departure Dates

May: 29 / Jun: 5, 19 / Jul: 10, 22, 30 / Aug: 19, 28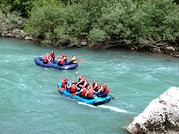 Our two-country Best of Balkans Tour brings together the best kayaking in the Adriatic Sea and the best of the region's mountains and rivers. Although Croatia and Montenegro share a common Adriatic coastline, the islands end at Croatia's southern border with Montenegro. Croatia's 4000 km. of spectacular coastline are littered with roughly 1185 islands, a sea kayaker's dream. What tiny Montenegro lacks in Adriatic coast and islands, it makes up for in spectacular mountain scenery, deep river-cut canyons, and the mountain ringed Bay of Kotor.
Experience the best of both worlds- Croatia's sea and Montenegro's mountains. Paddle sea kayaks in Croatia's deep blue sea, hopping from island to island. Sleep in a stone guesthouse on a quaint island without roads or cars. Feast on local seafood and rich Mediterranean cuisine. Jump into the warm sea without regard for the water temperature. A leisurely transition to Montenegro includes a visit to the UNESCO walled city of Kotor and a mountain hike for panoramic views of the Bay of Kotor. White water raft the cold, green waters of the spectacular Tara River Canyon, second in scope in the world to the USA's Grand Canyon. Sleep in wooden cabins at a rustic riverside camp. Enjoy hardy mountain meals around a roaring bonfire. Take in the star-studded night sky and crisp alpine air.
It's the best of Balkan adventure packed into one week- kayak Croatia's open sea and Elafiti islands, visit 3 UNESCO designated world heritage sites, Dubrovnik, Kotor, and Durmitor Park, and raft Europe's longest and deepest river gorge. Hands down, the best of the Balkans.
Tara River Campground