Island Hopping: The Elafiti Archipelago
Trip Length

8 days/7 nights, Friday to Friday

Arrival/Departure Point

Dubrovnik

Accommodations

Island guest house rooms with private attached bathroom, balcony, refrigerator, and A/C. Chosen for their character and easy access to the sea, village restaurants, shops, and kayak base

2017 Tour Price*

7700 Kn / €1015 / US$1060 / £864 *prices are in Croatian Kuna: Euro, US$, & GBP prices are subject to exchange rate fluctuations

Includes

7 nights accommodation, 7 breakfasts, 5 lunches & 3 dinners, equipment, instruction, guiding, airport & ferry transfers

Full Meal Price*

8300 Kn / €1095 / US$1145 / £930 *Full meal option includes dinner all 7 nights. Meal option does not have to be chosen in advance.

Single Supplement*

additional 1325 Kn / €174 / US$182 / £148

2017 Departure Dates

Apr: 14, 21, 28 / May: 6 (Sat-Sat), 19 / Jun: 2, 30 / Jul: 14, 28 / Aug: 4, 11, 18, 25 / Sep: 1, 8, 15, 29 / Oct: 6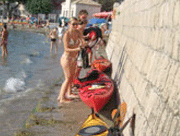 Our most popular tour begins in Dubrovnik, the "Pearl of the Adriatic". After visiting Stari Grad (Old City), a unique but chaotic and busy destination, we board a 1960s era Jadrolinija ferry to the Elafiti Island archipelago. The Elafiti Islands are a group of 13 islands north of Dubrovnik, a quiet little oasis of untouched nature. Only three of the 13 islands are inhabited. Our base is Lopud, the middle of the three inhabited islands. The 1 hour small Jadrolinija ferry ride immediately gives you a feeling of adventure. The small village of Lopud, the only village on the island, is a charming town of just 200 inhabitants. The pace of town life follows nature- it awakens just like nature in springtime, in early april, when our tours begin.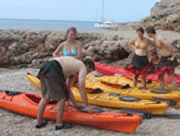 Lopud was inhabited from ancient times. Through the centuries it has acquired an interesting combination of old stone houses, palm tree parks, old gorgeous mansion surrounded by orchards of colorful lemon, orange, and kiwi trees. There are many small stone chapels, a variety of old Dalmatian wooden boats, sand and rock beaches. A big 15 century monastery with a stone defence system domintes the northeast entrance to the wide bay the town sits in. The ruins of a ancient fort, Utvrda Sutvarac, sits on top of one of Lopud's two main hills.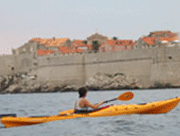 Our guesthouse is located in the middle of the big U-shaped bay. It's an old stone house only 30 meters from the sea with double bedrooms with private bathrooms. Each room has its own little balcony. We eat breakfast in a private interior courtyard surrounded by a garden of lemon and orange trees. Dinners are at our landlord's private restaurant, which sits high on the hill overlooking the bay. The sunsets are indescribable.
Lopud is the perfect base for kayaking adventures & explorations around the Elafitis. We take in the islands' relaxed way of life and old traditional customs. We explore ancient ruins and feast on fresh seafood and home-grown garden delights. Lopud's beautiful pristine nature of limestone cliffs , hidden caves, clean blue lagunas is extraordinary.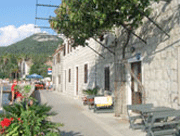 The Island Hopping Tour is designed to be active, but not in a demanding way. We move at our own pace- kayaking in crystal clear and calm adriatic seas, hiking along old goat trails to hilltop fortesses, biking alongside olive groves & vineyards, exploring historic architecture, and we are constatly charmed and mesmerized by the old customs and the flora and fauna present in this area of Croatia.
Island Hopping Tour Map