Our Zaton Bay full day kayak tour is no more paddling than our half-day Zaton Bay tour; there's simply more down time to swim, relax, and break for lunch at a beachside konoba (casual restaurant).

Just 10 km north of Dubrovnik, Zaton Bay is a place of natural beauty and tranquility. The deep bay, surrounded by mountain ridges, offers calm seas and natural protection from Dalmatia's characteristic coastal winds and busy motor boat traffic surrounding Old City- the perfect place to start paddling.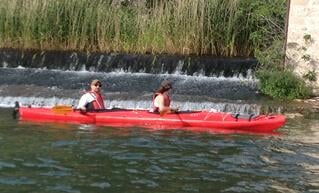 A paddle around the bay reveals an old stone mill fed by bubbling underground springs and lovely aristocatic stone villas from Dubrovnik's Renaissance. Where the bay meets the open sea, paddlers are rewarded with views of the near-by Elafiti Islands and a rugged coastline of towering cliffs and caves. Paddle to a private cove camouflaged by coastal cliffs- the perfect spot to swim, snorkel, cliff-jump, and relax. Break for lunch at a lively beachside cafe where the locals come to swim, relax, and play water polo.
Activity Level: Easy, 8 km, with lots of time to swim and relax
Departures: AKT office, car transport to Zaton included
Full-Day Tour: Daily 9 am-4 pm
Price: 380Kn / €50 / US$58 / £42
What to Bring
:
Bring a bottle of drinking water, sun protection (sunscreen hat, sunglasses), and money for lunch- we eat at a casual beachside cafe in the bay. A towel, camera, and dry clothes for the drive back to Dubrovnik are optional. Wear a bathing suit with clothes over. AKT supplies all of your kayak and snorkeling gear, including aqua shoes for kayaking, swimming, and walking on the rocky shoreline. We supply dry bags for your personal items (wallet, camera, clothes, towel, and phone), which stay dry in your dry bag stored in your kayak bulkhead compartments while you are kayaking. In cooler weather we supply waterproof paddle jackets.