Paddle Dalmatia: Elafiti and Beyond
Trip Length

8 days / 7 nights, Sunday to Sunday

Arrival/Departure Point

Dubrovnik

Accommodations

3 nights tented camping/4 nights private guest house rooms

2017 Tour Price*

7770 Kn / €1025 / US$1070 / £870 *prices are in Croatian Kuna: Euro, US$, & GBP prices are subject to exchange rate fluctuations

Includes

7 nights accommodations, all meals**, kayak gear, instruction, guiding, transfers, tent & dry bags

** does not include Day 8 breakfast in Dubrovnik

Single Supplement*

additional 1225 Kn / €160 / US$168 / £135

2017 Departure Dates

May: 7, 21 / Sep: 10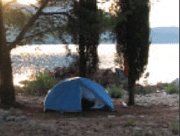 Paddle Dalmatia is an expedition style tour, a way to get to know the whole Dubrovnik region by kayak. We begin by paddling north from Zaton Bay, a beautiful narrow bay two kilometers long just outside of Dubrovnik, to Ston, the border of the old Dubrovnik Republic. Ston was built as a fortress town to defend Dubrovnik from northern invaders. Ston is famous for its well preserved 15th century defensive walls, the longest in Europe, and salt mines, as well as its delicious mussels and oysters. On the way, we travel along the mainland coast that was once the path of ancient Roman travelers. From Ston, we paddle south, leaving the mainland coast for the outer uninhabited Elafiti Islands of Olipa, Tajan, and Jakljan, to Šipan, the largest and most remote of the three inhabited Elafiti islands we will visit. Šipan has two villages, Suđurađ to the east (closer to Dubrovnik) and Luka Šipanska to the west. The furthe
st out of the inhabited islands in the Elafiti group, Šipan is the least visited by tourists. From Šipan we paddle to Lopud, the middle island of the Elafiti chain. Without roads or cars, Lopud is a charming village of just 200 people. Inhabited from ancient times, Lopud has acquired an interesting combination of old stone houses, palm tree parks, old gorgeous mansions surrounded by orchards of colorful lemon, orange, and kiwi trees. Our last stop before we return to Zaton is Koločep, the closest Elafiti island to Dubrovnik, where we paddle along dramatic cliffs and caves on the outer open-sea side.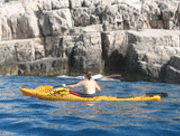 The tour combines adventurous camping in olive gardens with nights at traditional old stone guesthouses in a region full of small fishing villages, whose inhabitants live an old-fashioned way. Highlights are secluded beaches, hidden coves, limestone cliffs, and overnights in campsites and villages without many tourists. The kayaking is moderately challenging and invigorating, but not overly demanding. We move at our own pace, kayaking in the crystal clear and calm Adriatic sea, the bluest sea in the world. We also swim, snorkel, cliff jump, and hike along old goat trails to hilltop fortesses. We explore historic architecture- churches, forts, and 15th century villas and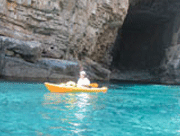 arboretums. While we pack and carry all our gear in our kayaks for the whole tour, we lighten our load after day 3, when we move from tented camping to more luxurious private guesthouse accommodations. We eat fresh and organic delicacies at cozy restaurants and guesthouses. Finally, we are constatly charmed and mesmerized by the old customs and relaxed island lifestyle as well as the rich Mediterranean flora and fauna present in this beautiful area of Croatia.
Paddle Dalmatia Tour Map